It may not be the most exciting household chore, but regularly cleaning your eavestroughs is a vital aspect of maintaining your home.
Fortunately, this task is fairly straightforward with few steps.
We break down the steps below and why cleaning your eavestroughs is so important.
Cleaning Your Eavestroughs
Why is it important?
A well-working eavestrough acts like a slide, bringing rainwater and melted snow to the downspout, which then deposits the water away from your home.
However, a clogged eavestrough impedes the flow of water, and the water will find a different way to escape. This can lead to leaky roofs, interior or exterior water damage, mould, or damp basements.
Additionally, the bed of leaves in your eavestroughs makes for an inviting place to nest for small animals.
At the very minimum, ignoring your eavestroughs will necessitate gutter repair.
How do you clean your eavestroughs?
Step 1
Place your ladder under the eavestrough and close to the downspout. You will be starting at the spout and working your way out.
Step 2
Handful by handful, grab debris from the eavestroughs and place it in a bin or bucket that you're able to hold at the top of the ladder with you.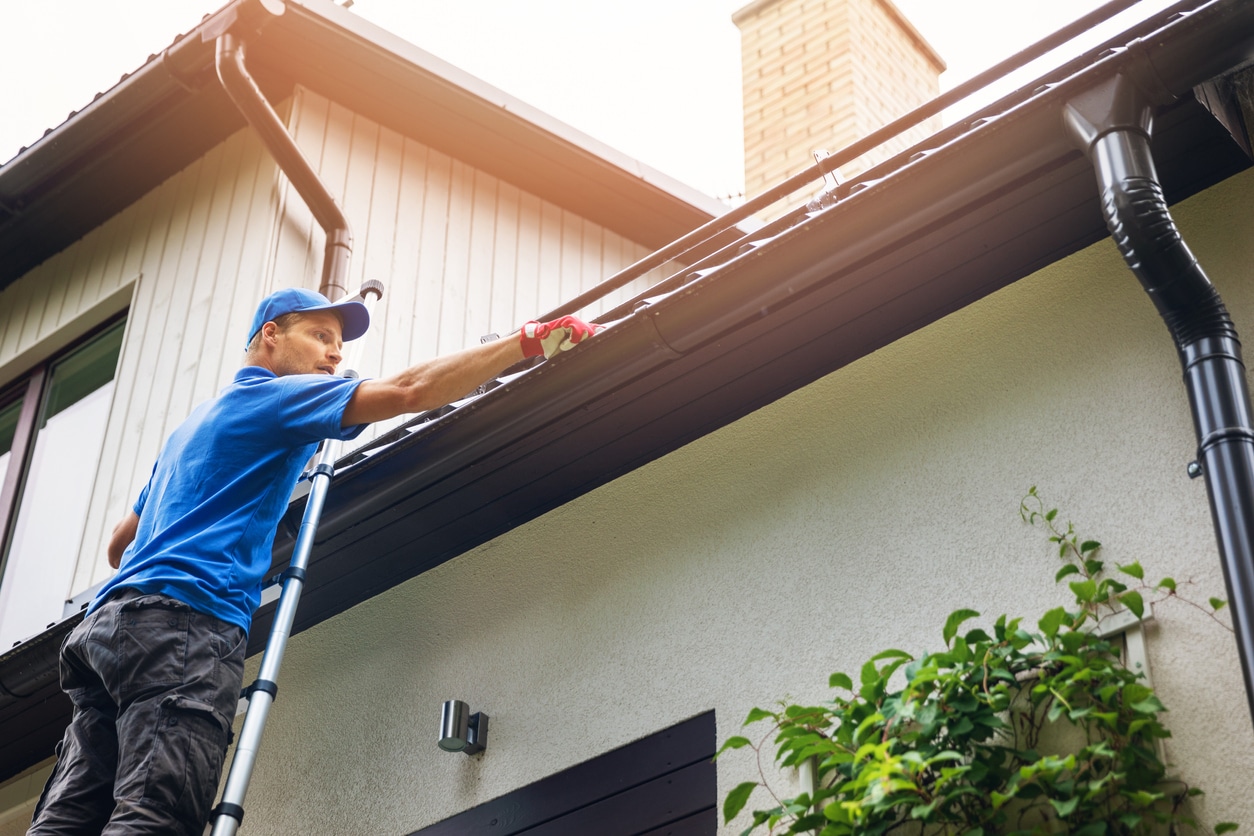 It is recommended that you tackle this chore when the debris in the eavestroughs is dry. This will make the job easier.
Step 3
Once you have removed as much debris as possible from the eavestroughs, grab your garden hose. Ideally, your hose will have a spray nozzle, as you will be using the water pressure to flush out your eavestroughs.
You will be working in the opposite direction as you were while gathering the debris. Start at the furthest point from the downspout and make your way towards it.
If you notice the water is not flowing freely down the downspout, it may be blocked. To unclog it, try spraying the garden hose up the downspout or use a plumber's snake.
For regular maintenance, it's recommended that you clean your eavestroughs twice a year- once in the spring and once in the fall.
If you notice that you require gutter repair during your cleaning, don't hesitate to contact a professional for further advice or assistance.

At City Roofing and Exteriors, we take pride in our work and by serving Calgarians. We work hard to assist our customers in providing proper roofing systems to meet your budget and needs. We guarantee that you will be satisfied with our work, give us a call at (403) 608-9933 or email us at [email protected].